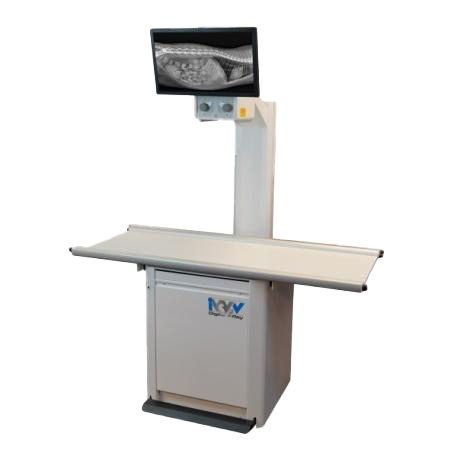 IWV System X Digital X-Ray
The IWV System X is designed and built for optimal performance, convenience and image quality
Your veterinary x-ray equipment requirements are as unique as you are. At IWV Digital X-Ray, we provide consultation and support as you navigate the often-confusing marketplace of veterinary radiology equipment.
Don't settle for "quotes" from pharmaceutical distributors. IWV Digital X-Ray consults with you to understand your objectives and to provide a tailored, single source, turn-key solution, on-time and within your budget. IWV Digital does NOT outsource installation, training or support to contractors, as do most "internet sellers". Comparing IWV Digital to a catalogue reseller or on-line order taker is like comparing apples and oranges. If all turn-key services aren't provided by a single source, finger-pointing and frustration will be a part of your future. We're digital veterinary imaging experts who provide a total solution.
What veterinary x-ray machine is right for you? Give IWV Digital X-Ray a call and we'll match you with the right veterinary radiology equipment solution.
The IWV System X is designed and built for optimal performance, convenience and image quality. The System X is flexible to accommodate the demands of most small animal practices from 1 to 15 veterinarians.
IWV Digital "System X" Veterinary X-ray Machine includes:
Crystal Clear Images in seconds – Premium 17x17 Cesium DR detector technology
"Heads-Up" Touchscreen User Interface
Acquisition Workstation with Software and Wide-Screen High-Definition Monitor
"No-hassles" Viewing Station set-up
Smart Anatomical Programming (APR)
Intuitive and user-friendly Veterinary software suite. Complete set of image manipulation and measurement tools
Virtually immediate images lead to efficiency, labor savings and better diagnoses
High Frequency Generator, 32kW / 400mA, 4-Way Float Table
DICOM 3.0 compatible - Capable of sending images via electronic transfer within your hospital or around the world
Capable of communicating with virtually any Practice Management Software
Designed to operate on a dedicated 110V/20 Amp circuit
Complete On-Site Installation and Training included
FREE in-house continuing support for the entire warranty period
Single source Veterinary radiology equipment from one company. No finger-pointing. Period.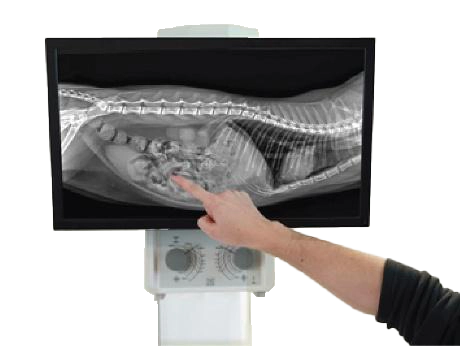 "Heads Up" Touchscreen allows you to keep your focus where it belongs, on the patient. No mouse-clicking, reaching or neck-straining. Control of everything at your fingertips.
Powerful recruiting tool to attract new Veterinarians and Technicians.
Charge a $$ premium $$ for this state-of-the art technology.
Incredible marketing tool $$. Position your hospital as a community or city leader with diagnostic services and client convenience beyond what any other practice in your area provides.
Save $$ on installation and room prep $$. Versus competitive 220V systems, the System X saves $1,500 - $5,000 or more, in 110V electrical power installation costs alone.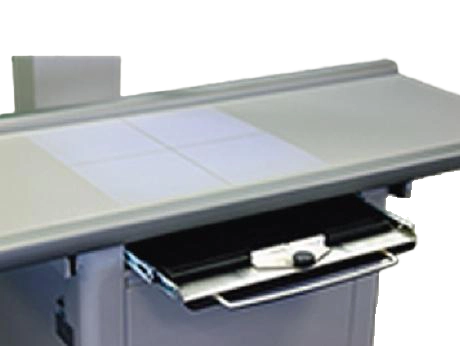 Moving on from CR technology?
Call and find out how to never handle a cassette ever again
Images on the screen in 2-5 SECONDS !
Retakes can be done immediately while the patient is still in position
Digital System Solution from one company. No finger-pointing. Period.
Trade-in/Trade-up incentives available!

Reduces turnaround time to only seconds, improving patient care and client satisfaction
Virtually eliminates labor costs associated with standard x-ray processing
Eliminates x-ray film
Eliminates cassettes
Eliminates darkroom
Eliminates film processor
Eliminates chemical cost, inventorying, waste disposal and mess
Improves employee morale with filmless technology
Trade-in/Trade-up incentives available!